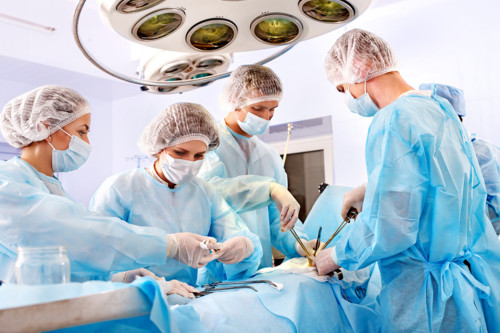 General surgery department of Medline medical center provides the following surgical manipulations:
• Surgeries of liver and gallbladder
• Surgeries of retroperitoneal area organs
• Hernias surgery
• Surgical treatment of gastrointestinal tract diseases
Laparoscopic surgery
Diagnostic examination and laparoscopic surgery interventions are carried out in case of gallbladder ducts diseases and hernias (e.g. diaphragmal).
Oncology diseases
Surgical treatment of oncological diseases is usually carried out in cases of life threatening; intestinal obstruction, perforations of cavital organs, etc.
Surgical rooms of the clinic are equipped with all modern devices to carry out surgical interventions. In-patient medical care is provided at comfortable patients' wards.
We provide the whole volume of surgical interventions.
The clinic serves the social package beneficiaries and people with health insurance. The availability of appropriate specialists enables a complex of surgical interventions. All necessary instrumental and laboratory examinations, high quality healthcare by best staff and equipment are carried out in very short terms.
Our general surgeons
Slavik S. Amiryan, surgical responsible
Vahan Petrosyan, general surgeon